Here's what I've been working on to while away the hours in the dead of winter:
a crypt mailbox
.
It's based on a mailbox one of my fellow haunters at the NJ/PA Make & Take group made last year. Tinman's mailbox is awesome in its craftsmanship, as well as the overall effect of it being carried on the shoulder of a ghost. You can see the many stages involved in building his mailbox over at his
Photobucket site
.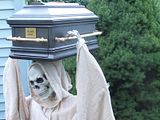 After suppressing my initial desire to grab it and run off with it, I knew that I wanted to build one too. But I didn't want to just rip off his design completely, and began casting about for ideas on how to change it up. When I saw the Davis Graveyard's
new crypt prop
last year, however, I knew the direction I wanted to head in.
It took a good week to build, much longer than the baby block toy chest I posted previously. For both projects the main time killer is waiting for the glue to dry. I typically build with biscuit joints and glue and don't use too many nails. One thing I did realize after these projects -- I need to get more clamps!
Here are a few more angles of my crypt mailbox.